I love having a daughter! From the time I knew I was having a girl, I was so excited for all things princess. She is almost 17 now, but she will always be my little girl and as a mom, I think I will always be drawn to princesses. . .
That being said, I am thrilled to feature a recent image from
Whimsy & Stars Studio
. . .her name is
Little Princess
.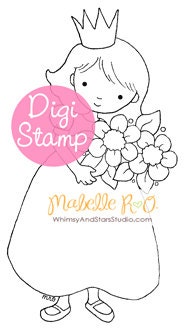 And here is my card using this sweet image. . .
I printed the image on white cardstock and colored her with Copic markers. I then printed the image a second time on pattern paper and paper pieced her dress. The sentiment is a quote from
Hans Christian Andersen
, whose stories I adore.
Be sure to check out the blog daily for updates and creations from the entire Whimsy & Stars Studio Design Team!
Happy Tuesday!